PAT Testing – The In's and Out's
PAT Testing stands for 'Portable Appliance Testing'. It is a policy in the UK in which routine safety checks are performed on electrical appliances. In other words, it is a safety regulation to ensure that anyone who could come into contact with portable electrical appliances is not at risk of injury. It is not a legal requirement; however, UK legislation states that businesses must maintain electrical equipment in safe condition. Businesses also have a legal responsibility to ensure employees and the public are safe.
Electrical appliances and equipment are examined to ensure they are safe to use. Some electrical faults can only be found by testing but visual examinations must also be carried out as not all faults can be found through testing. A brief, visual check of equipment can be a useful part of your maintenance routine to look out for frayed wires, damaged casing around appliances or plugs that appear to be cracked.
As detailed in the 1989 Electricity at Work Regulations, it states: "All [electrical] systems, shall be maintained so as to prevent, so far as is reasonable practicable, such danger." There is no law which says how often PAT testing should be done or how it should be done, it simply requires businesses to make sure their electrical equipment is maintained to prevent danger. We recommend doing it once a year!  
A PAT Testing specialist will perform tests on the appliances to check if they pass or fail. They will test earth continuity, lead polarity, and insulation resistance. It is a fairly quick process but must be done by a qualified PAT tester. If appliances fail, they must be fixed to prevent injury occurring. Once each appliance has completed the test they will be labelled with a sticker to show when they passed. This can also help you to remember when it should next be tested.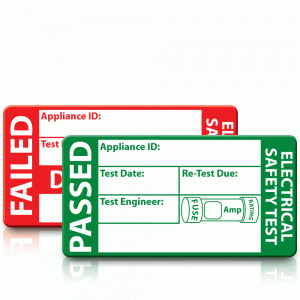 All types of organisations, from small offices to large corporations have to undergo PAT Testing.
How do you do it?
The person carrying out the PAT Testing needs to understand exactly how to do it. We're currently doing online courses to learn about PAT Testing so we can test our own equipment. It is possible to carry out brief visual inspections of kit without any training as long as the member of staff is competent to do it. However, a greater level of knowledge and experience is required to undertake a complete PAT Test. They will need the right equipment, ability to use the test equipment properly and the ability to understand the test results.
In order for someone to carry out a PAT Test they should:
Have adequate knowledge of electricity

Have adequate experience of electrical work

Know how to carry out a visual inspection

Know how to carry out a PAT test

Understand potential hazards & precautions to take when PAT testing

Be able to decide whether it's safe for PAT testing to continue
One of our apprentices, Toby has completed his PAT Testing training – This means we do it all in-house so you can be sure our equipment is all up to standard!
High Quality Event Technology
At Cleartech Live we can provide you with high quality, great tech. Our LED Video Wall provides the highest quality audience viewing experiences which are not only visually captivating but ensuring every seat is the best seat in the house. Having wider viewing angles means 'worst seats' no longer exists. Also, as it has the ability to hang or stand it there is much more space available! To read more about our LED screens click here.  Our vision is to invest in our staff as much as we invest in providing our clients with exceptional quality.
For more information about what we do and how we can help you with your next event, call us on 02920678000.
Why should you live stream your event?