How can exceptional Event Production enhance your event?
Events are not just about turning up, listening/watching/participating in the event then leaving….they're about the whole event experience. People will start getting excited about events months in advance, so why not take advantage of this and have your attendees acting as advocates for the months leading up to the event to encourage others to join?
Social Media has had a massive impact on pre-event production. Just turning up on the day with no contact with your audience or no social media interaction is not heard of!
Here are a few ways of creating exceptional event production to enhance your event.
Snapchat Filters
Snapchat Geo-filters are illustrations with your company logo, event and location on them. They can only be used in certain locations so are perfect for your attendees to show off your event. Snapchat geo-filters drive the sense of FOMO (Fear of Missing Out) so can be used to encourage new attendees to future events. Snapchat filters can be used before, during and after your event to show behind the scenes content and to show exclusives to your audience. On the geo-filter location you can add your event hashtag, this is great to encourage social sharing. If you use the same hashtag on all social media platforms, your audience can become advocates for your event before the event has even started!
Need a Snapchat filter designed and produced for you? Get in touch! Here is an example of the one we made for the Cardiff Hoteliers event.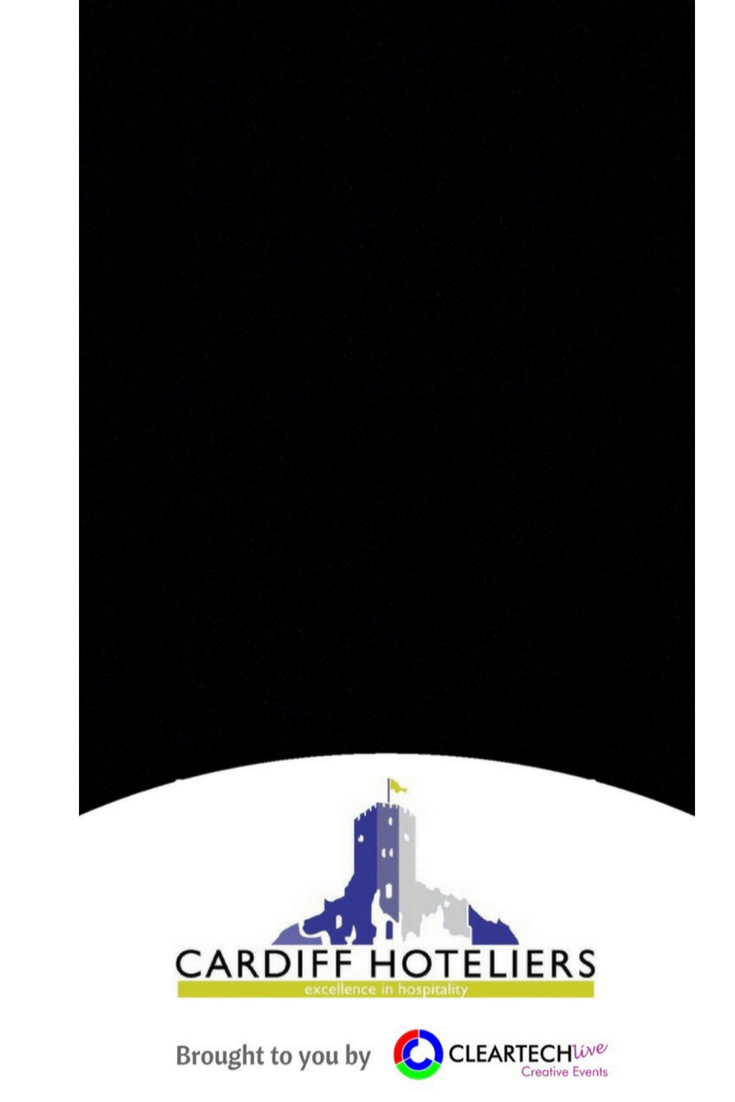 Shareable Graphics
Shareable graphics will provide your event with an image that your speakers and attendees can promote. You could create a special graphic for each of your speakers then encourage them to put the graphics on their blogs and social media channels.
Create a click to tweet! If people are excited about attending your event, why not encourage them to click a button and tell their friends about it. On the 'Thanks for Registering' page, place the click to tweet to share with their audience that they are attending your event.
Publish in Local Press
Publishing your event in the local press will provide you with increased exposure but you need to try and turn the local press readers into attendees. Having a good graphic will help but most importantly, your event must sound interesting! Take time to write your article to make sure you're selling your event! If you've got any well-known speakers attending, definitely drop their names in! Include pictures of previous events and any good statistics you have about the number of people that attended!! Ensure you have a Call to Action at the end of your article! Imagine missing out on potential attendees because you forgot to say how to buy tickets or where the event was being held!
If you require any help with creating graphics or content, get in touch!
Build event specific websites
Having an event specific website can help to build trust with your potential attendees. Your website is proof that they can trust your event. It is essential to build trust with your potential attendees to take them from unfamiliar site visitors to committed attendees. If you have any guest speakers at your event, get them to share your website! If your attendees trust your guest speaker they will trust your event because the speaker has associated themselves with your brand.
When an unfamiliar site visitor comes to your website you need to tell them in 10 seconds why they should attend your event. If they've not been told within 10 seconds, the likelihood is, they will not attend. Your website design should be straightforward and easy for your potential attendees to picture your event. Using photos from past events rather than stock images will help potential attendees to picture your event but also shows them what previous events were like. If you're not showing off pictures, they're going to wonder why.
If people are talking about your event on Twitter, why not take advantage of that social proof to encourage new site visitors to attend? Add a Twitter widget to your event page to do this!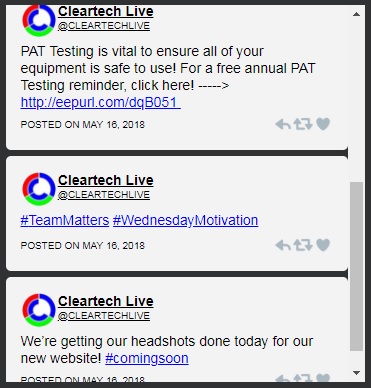 Always ensure your event website has a CTA (Call To Action). When it comes to events, 90% of the time, the CTA will be to register for the event. Most importantly – make your website mobile friendly!!!
We have a team of technicians on hand for all of your event production requirements. Using the best production techniques and equipment to meet your needs, identifying what will work, producing it professionally and then delivering on your preferred platform!
If you need help or any equipment, contact us today! info@cleartechlive.co.uk or call 02920678000
High Quality Event Technology
At Cleartech Live we can provide you with high quality, great tech. Our LED Video Wall provides the highest quality audience viewing experiences which are not only visually captivating but ensuring every seat is the best seat in the house. Having wider viewing angles means 'worst seats' no longer exists. Also, as it has the ability to hang or stand it there is much more space available! To read more about our LED screens click here.  Our vision is to invest in our staff as much as we invest in providing our clients with exceptional quality.
For more information about what we do and how we can help you with your next event, call us on 02920678000.