How to promote your live stream:

Once you've worked hard planning your event, you want as many people as possible to watch it.
TIP: Start early enough – give people enough time to schedule your event into their calendars. Also send out follow up notices as the date approaches. If you make an event page on Facebook, it will automatically notify the attendees a few hours before the event; however, you might still want to remind them in advance!
REMEMBER: Time differences – maybe you're not only aiming to attract participants from your country. Remember to state the time of the event in various locations. If this is the case, aim to select a reasonable time for the majority of your expected audience.
---
BEFORE THE EVENT :
Locate your audience:
Have an idea of the interests of the people who would want to watch your event. Have a think about which social media platforms they are most likely to use. It would be a waste of your time promoting your event on Snapchat if your audience were not there. If you're unsure, Facebook and Twitter are good starting points!
Blogs are a good way of finding your target audience. You could subscribe to blogs they write or blogs which are read regularly by your audience. In addition, Facebook groups are a good way to reach your audience because you can read what everyone is posting and even post yourself. Participating in your target audiences' community prior to your event is beneficial in order to give your name and company exposure.
Teaser:
Creating teaser videos can build excitement about your event and encourage your target audience to get involved by watching them to find out more information about the event. If you have sponsors and speakers at your event you could ask them to get involved by creating a short video explaining why they're excited for the event. This will also help to put faces to the names on your agenda.
Word of mouth:
It is a well-known fact that people are more likely to participate in an event when someone else refers them to it. People tend to trust other consumers opinions rather than brands / companies because they are portrayed as genuine. Your audience will probably trust other attendees opinions about the event therefore, work of mouth marketing is essential. Invite your network first then encourage them to share your event to their networks.
The picture below shows simply how word-of-mouth works!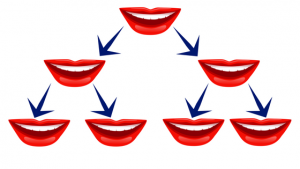 Speakers:
Your speakers could be reaching out to their own followers about your event. If they are, make sure you're engaging with their promotion and are sharing it with your audience.
Guests:
When your guests sign up to your event you could encourage them to share your event by stating, if they invite a friend they will receive a special bonus as part of the referral scheme. After your guests have signed up you could thank them via email then ask them to share your event page by using a 'click to tweet'. Click to tweet is great because your audience have to click one button then your tweet is shared! This would be the perfect place to include a link to your event page.
(Here is a simple step-by-step guide about how to insert a click- to-tweet)
Extra:
Post event promotion content and boost the posts on Facebook to a targeted audience.
Invite questions in advance.
Create a pre-event page.
Create a visual for your event – put this picture onto every promotional activity you post. (Ensure it has your company logo on it)
---
DURING THE EVENT:
Creating a hashtag to use before and during your event is a great promotional tool. Try to encourage your participants to use this link so others will see it. It is possible that not everyone you target will hear about your event before it starts. Tweeting the link to your live stream once your event begins could reach more people online and encourage them to watch. Some people may not have wanted to sign up in advance but are interested in your event. Live tweeting and encouraging your audience to share exposes your event to more people.
During your event it is essential that you're checking the comments people are posting on your live link. You should involve your online audience as much as possible as you may be able to turn them into physical attendees next time!
---
AFTER:
One of the most important tasks once your live stream is complete is to thank all of your attendees. This could be done via email to make it personal or a message on social media. In your thank you message you could ask for feedback about your event to find out what worked well and what you could work on for future events.
Once your event is complete you should still continue to promote and repurpose your live video content. You can share clips from the event which went particularly well and you could write a case study about the event which can be shared with all of your physical and remote attendees.
"Get in touch today to promote your next event effectively! Call 02920678000 or email sian.barrett@cleartechlive.co.uk
Check out the next posts below for more event live streaming info!
High Quality Event Technology - Want To Live Stream With Us?
At Cleartech Live we can provide you with high quality, great tech. We provide the highest quality audience viewing experiences which are not only visually captivating, but also a smooth tech-experience for the perfect streaming technology for your event needs.
For more information about what we do and how we can help you with your next event, call us on 02920678000.