1 – Plan your live stream like you would any other event:
You should plan a live stream the same as any other event. Just because you may decide to not have a physical audience, it will still take time to plan to ensure it runs smoothly.
You need to decide you will attend your event. You may already have a target audience but if not, you need to work out who your audience are and where to find them! Social Media is a great place to find your target audience as you can find specific groups, for example, on Facebook.
You then need to think about where your event will take place. Will you have a physical audience as well as live streaming your event? If you're going to have a physical audience you will have to think about a suitable venue and how many people you are expecting to attend.
You will then have to select a live streaming platform. (We've given you some ideas in the next section!) One of the crucial elements of your event is what it will entail. Will you have guest speakers, show videos, have interactive voting? These are just a few ideas! You need to make sure your event will appeal to your target audience. Maybe you will demonstrate one of your latest products or have a Q&A. Question and answer sessions are great because they can include both your physical and remote audience.
The next part of your event which needs planning is your staging and lighting. Even if you're not going to have a physical audience, you will still need you live stream to look professional. If your lighting is too dark and your audience can't see you, they're not going to watch for long! We can help you with all of your staging and lighting requirements as well as providing equipment for your live stream and filming it for you!
2 – Choose your platform:
There are so many platforms available to live stream events, some are free, and some come with a charge.
FREE:
YouTube Live is a good tool to use as you can edit the privacy so you can select which of your viewers can watch. In addition, you can preview the live stream before going live to see what your audience will be viewing. This is great especially if you're new to the live streaming world!
Facebook Live is a great site to use as it's the largest social networking platform. You will have the ability to control who sees your videos so can target a particular audience. Facebook also allows you to target geographically! Another benefit about using Facebook is being able to reach outside of your friends / followers list. You can create an event page then directly post your live link into the page.
Periscope is a live streaming platform which allows you to video directly from your phone. It allows you to connect your account with Twitter to share your live stream with others. Another benefit with Periscope is the live stream being available to be watched for 24 hours allowing anyone who missed your live stream to catch up later.

OUR OPTION: Clear Stream Live
How it works:
From a single webcam to a multi-camera professional video production company we can live stream your event worldwide.
Benefits:
HD Streaming – Our platform allows your event to be streamed in HD Analytics – See your stats to see how engaged your audience are
Security – Have full control over your domain name and protect your content to ensure it's only viewed by authorised viewers
Global Delivery – Your stream can be viewed worldwide with zero buffering
Full brand control – No adverts, no logos and no 'here's what you should watch next'
Add production to your stream – We can add graphic overlays / camera switching
Contact us for a quote! We can provide all the equipment you need as well as live streaming your event through our platform.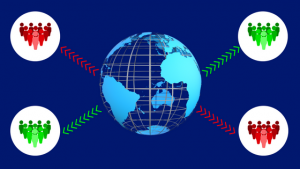 3 – Choose your equipment:
Cleartech Live have a wealth of experience when it comes to event broadcasting. We have our own encoders which meet the requirement of the free live streaming platforms as well as our own platform. These encoders enable the integration of broadcast quality cameras and vision mixers into platform you're using.
Option 1:
A simple broadcast using one camera directly linked to an encoder is the cheapest and simplest method. An additional camera to record the show in full HD could also be used.
Option 2:
For an improved viewer experience an additional camera, live graphics and video inserts could be added which would be delivered directly in to the stream.
Equipment List:
Live Stream:
 Black Magic ATEM Production Studio Vision Mixer
Sony PMW-400 Full HD 1080p Broadcast Quality Camera
Teredek Cube Encoder – All-in- one solution for streaming
Sound:
Allen & Heath QU24 Digital Mixing Desk
 Shermann Audio sound system
Sennheiser 3000 series wireless microphone
In addition to the live stream, we offer lighting packages to suit your needs.
Contact us to find out how we can help!
4 – Promote your live stream:
You've finished planning your event….now you need to make sure people watch it. The first step is to invite your network to an event page on social media. By doing this, you can encourage your network to share your event link before and during the live stream to their networks. This way, your event has the potential to be promoted to a much larger audience. Creating a hashtag for your event is a great way to spread awareness. This can be used before and during not see what people are saying about your event.
For an in-depth guide on how to promote your live stream, >click here<
5 – Test your audio & visual equipment:
It is vital that you test all of your audio and visual equipment before the event starts. Not only do you need to make sure all of your equipment works, it is essential to ensure that everyone understands how to use it.
6 – Do a test run:
This can be combined with testing all of your equipment. Once you've tested your equipment, do a test run of your event. Create a schedule and do a run through to see if everything works and fits within the schedule.
Once your schedule has been finalised, make sure everyone involved has it so they know when you're going live. Your audience won't be pleased if you're late or you went live too early so they missed out on part of your event!
You could share your schedule with your audience so they know the plan for the event.
We hope this checklist helps! If you need any further assistance or would like any additional help, please get in touch! Call us on 02920678000 or visit www.cleartechlive.co.uk
High Quality Event Technology
At Cleartech Live we can provide you with high quality, great tech.  Our vision is to invest in our staff as much as we invest in providing our clients with exceptional quality.
For more information about what we do and how we can help you with your next event, call us on 02920678000.